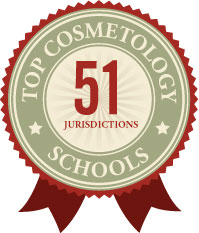 With creativity fully piqued and a passion for beauty leading the charge, future hairdressers and stylists begin searching for a beauty academy that will support their ambitions and provide a quality program that meets all the requirements for earning a cosmologist license.
But a quick search of schools comes back with an overwhelming number of choices.
Where do you begin your search, and how in the world can you narrow down your options and feel confident that a school will prepare you to not just succeed, but to shine once you hit the salon floor?
Here at Cosmetology-License.com, we are proud to offer a state-by-state guide to the top cosmetology programs in the U.S. based on our industry standard grading system and ranking methodology.
Find out which cosmetology schools in your state made the list!
Top Cosmetologist Schools By State
How We Selected the Top Beauty Academies in Each State
First, we narrowed down the list to include only those programs that meet state licensing requirements, and with very few exceptions, all schools that made our lists qualify for Title IV federal financial aid funds. Next, we looked at quantifiable metrics and other features that offer some real insight into the quality and value of each school's cosmetology program.
Lastly, we looked at things like exceptional customer service, facilities and amenities, the background of the instructors, among other things that make for a great student experience.
Our selection process is based on the 12 criteria that are most important to future cosmetologists when exploring their education options.
It's all here. We've compiled the research, done the legwork, and hand-picked the best schools, making it easier than ever for you to find a cosmetology program that will support your vision of becoming a licensed salon professional.
Basic Standards for Cosmetology Education
It is the job of accreditation agencies and state boards of cosmetology to recognize schools that meet specific curriculum requirements. Still, they don't rank or promote programs based on the many other factors that are so important to students – things like student success rate, available scholarships, quality of the learning environment and value.
State Board Approval
You may refer to your state board of cosmetology for a list of approved cosmetology schools, as many boards maintain a list of programs that meet state licensing requirements. But often times this still doesn't do much to narrow down your options. For example, the California Board of Barbering and Cosmetology has approved 245 cosmetology programs!
For licensing, most state boards require the completion of a cosmetology program of about 1,500 hours, although this can vary from one state to the next. For example, to become a cosmetologist in Florida you must complete a program of at least 1,200 hours, while in Arizona a cosmetology program must be at least 1,600 hours in duration.
National Accreditation
To be accredited means that the cosmetology school has met national standards for educational performance established by an impartial agency. It also means that the Secretary of Education recognizes the school as being able to participate in federal student aid programs. Accreditation is generally considered a basic requirement for a school to gain state board approval and recognition that its cosmetology program meets state licensing requirements.
There are three national agencies that accredit cosmetology programs:
Although it's always wise to look at accreditation when choosing a cosmetology school, you will quickly find that it still results in a huge number of options. Consider this: The National Accrediting Commission of Career Arts and Sciences, the largest accreditation agency for cosmetology schools, accredits more than 1,300 schools offering cosmetology programs!